About MoldCraft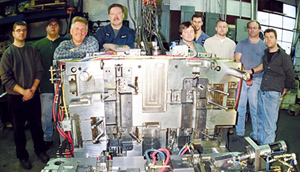 MoldCraft has been in business designing and building molds for the automotive, industrial, electrical and medical industry for over 40 years. Our mission is to deliver tooling that exceeds our customer's expectations for cycle time, reliability and quality. We all know that a well engineered quality tool is a true value for your production requirements and profit margin.
By combining state of the art technology with highly skilled certified mold-makers and engineering, MoldCraft produces a superior product that runs faster, better and longer at competitive prices. Our experience and knowledge of the molding business gives you an easy running mold. Our engineering group will work with you on a personal level to help solve design and tooling issues prior to manufacture to meet your needs with a timely delivery.
MoldCraft is strategically located in Western New York minutes from the Buffalo Niagara International Airport, near the Canadian border and Interstate 90. If you'd like to learn more about MoldCraft and our capabilities, please feel free to contact us. We'd love to discuss the details of your next project.