Equipment
The latest equipment, networked into the CAD/CAM design department, ensures the closest tolerances, and the most efficient production of complicated parts.
Automated machining means the best mold in the shortest turnaround time and at the best price.
Milling / Drilling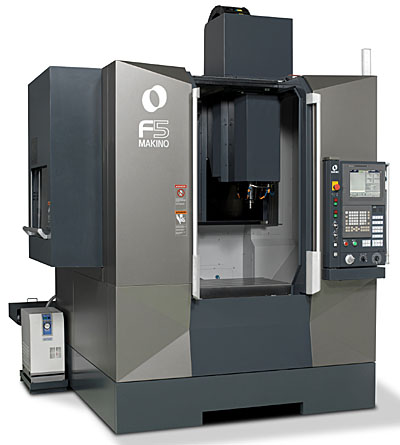 MoldCraft's precision milling and drilling equipment ensure your tools are crafted with accurate specifications.
Makino CNC Machining Center PS95
Makino CNC Machining Center F5
Mazak CNC Machining Center FJV-25
Mazak CNC Machining Center Nexus 410B
Bridgeport Milling Machines w/DRO
Stanko Milling Machine
Howa Sangyo Milling Machine
Supermax Milling Machine YC-2GS
Dynamic Radial Arm Drill
Turning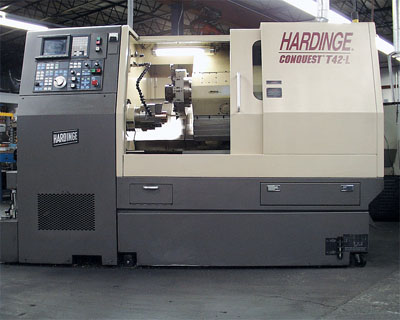 MoldCraft's turning centers set the standard in high-precision and high-performance turning that will take your part quality and manufacturing capabilities to new heights. T-Series machines and Lathes are designed to exceed your expectations and are ideal for two axis high precision machining or complex multi-tasking operations that require a high level of precision, delicate part handling and for parts made complete in a single setup.
Hardinge CNC Turning Center Conquest T42-L
Doosan Lynx 220LM     CNC Turning Center w/axis milling
Clausing 13" Lathe w/DRO
Luxcut 13" Lathe w/DRO
Clausing 17" Lathe w/DRO
EDM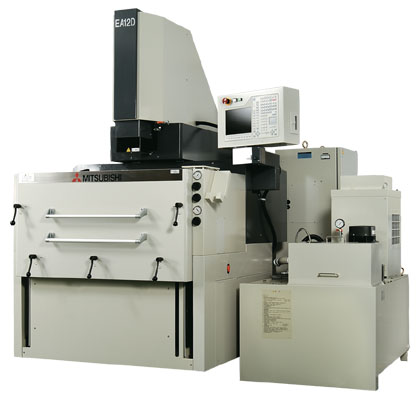 We use a number of Electrical Discharge Machining (EDM) equipment to create desired shapes.  The process is often referred to as spark machining, spark eroding, burning, die sinking, wire burning or wire erosion.
Mitsubishi CNC Wire EDM FX-20K
Mitsubishi CNC Wire EDM MV1200S
Mitsubishi CNC Sinker EDM EX-8
Mitsubushi CNC Sinker EA12D w/20tc
Agie CNC Sinker EDM Mondo Star 50
Belmont ZNC P60  + E200
Charmilles HD8 Hole Poper
Grinding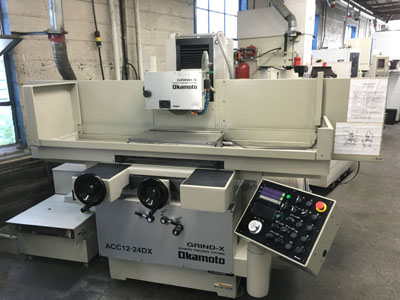 Depending on the particular project, we have a variety of angular grinders, surface grinders, cutter grinders and bench grinders to get the job done efficiently.
Paragon I.D/O.D Grinder GUS-32 x 50
Chevalier Surface Grinder FSG-618M
Chevalier Surface Grinder FSG-612
Chevalier Surface Grinder FSG-1020AD
Clausing Surface Grinder
Okomoto Surface Grinder
Gorton Cutter Grinder
K.O. Lee Cutter Grinder
Powermatic 1.5 h.p. Bench Grinder
Sawing
Kyson Johnson Horizontal Band Saw Model J
Powermatic Vertical Band Saw Model 87
Chop Saw Kalamazoo K1
Other
Sand Blast Cabinet
Dake Press DTE24
Allis Chalmers Tow Motor 11 Ton Capacity
Clarke Tow Motor 7 Ton Capacity
Granite Surface Plates
NewBould Spinner Model 2002
Westhoff Graphite Drill Model 100
Welding
Miller TIG Welder Model 320A/BP
Laser Star Workstation 19 series Micro Welder
Engineering
Unigraphics NX 10 with Mold Wizard
Solidworks 2015/16
Surf Cam, CAM Software 2004
Unigraphics NX 9.0 for Manufacturing
HP 1530 Design Jet Plotter
Cable Modem
Inspection
Brown & Sharp Coordinate Measuring Machine DCC Gage CNC
US Micro Optical Vision System
Brown & Sharp Tesa  Hite Gage
Optical Comparator Genx Model 4316
Optical Comparator Gage Master Model 29Gm4
Wilson Rockwell Tester
Granite Surface Plates 12"x 14" To 3' x 6'
Experience
Mold Makers – over 250 years of experience total
Engineering – over 50 years of experience total
Facility
Building Plant 1 – 8500 sq. ft.
Plant II – 2000 sq. ft.
Loading Dock ground level garage door
CAD Capabilities
UG Import
Parasolid
CGM
Markup
NX-2D
NRML
STL
IGES
STEP 203 & 214
DXF
DWG
Imageware
V4 CATIA Solids
UG Export
Parasolid
CGM
Polygon File
Author HTML
VRML
PNG
JPEG
GIF
TIFF
BMP
IGES
STEP 203 & 214
DXF
DWG
V4 CATIA Solids
Team Center Visualization
Solidworks Capabilities
UG Import
DXF
DWG
CATIA Graphics
UG II
LIB Feat
Parasolid
Solid Edge Part
IGES
STEP 203 & 214
ACIS
VDAFS
VRML
UG Export
STL
Inventor Part
Cadkey